Safety Benefits
In order to best satisfy the needs and interests of our clients, we carry out all of our services ourselves, no sub contracting.
You are not bound to an employer status: As we provide you with paid employees, we assume the administrative tasks and social risks linked with staff hiring.

Our Team has the professional insurance required to intervene safely into your house.
Transparency Benefits
As we are a fully independent and unaffiliated property management company, our services are provided to our clients without inherent conflicts of interest.
Our prices are fixed and known in advance, you control all costs.
Tracking: We report back to you any intervention in writing, in less than 48h.
Fiscal Benefits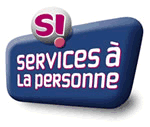 "en toutes saisons maison & jardin" is the first company in the Dordogne to get the
French quality certification "Services to Individual People" (Certification N°2006-01-24-05 delivered on Septembre 2006 by the Dordogne Préfecture).

As a consequence our clients who are taxable in France on their incomes can benefit from a 50% tax deduction on the security checks and maintenance services.
The lowest TVA rate of 5.5% will apply to these two services.